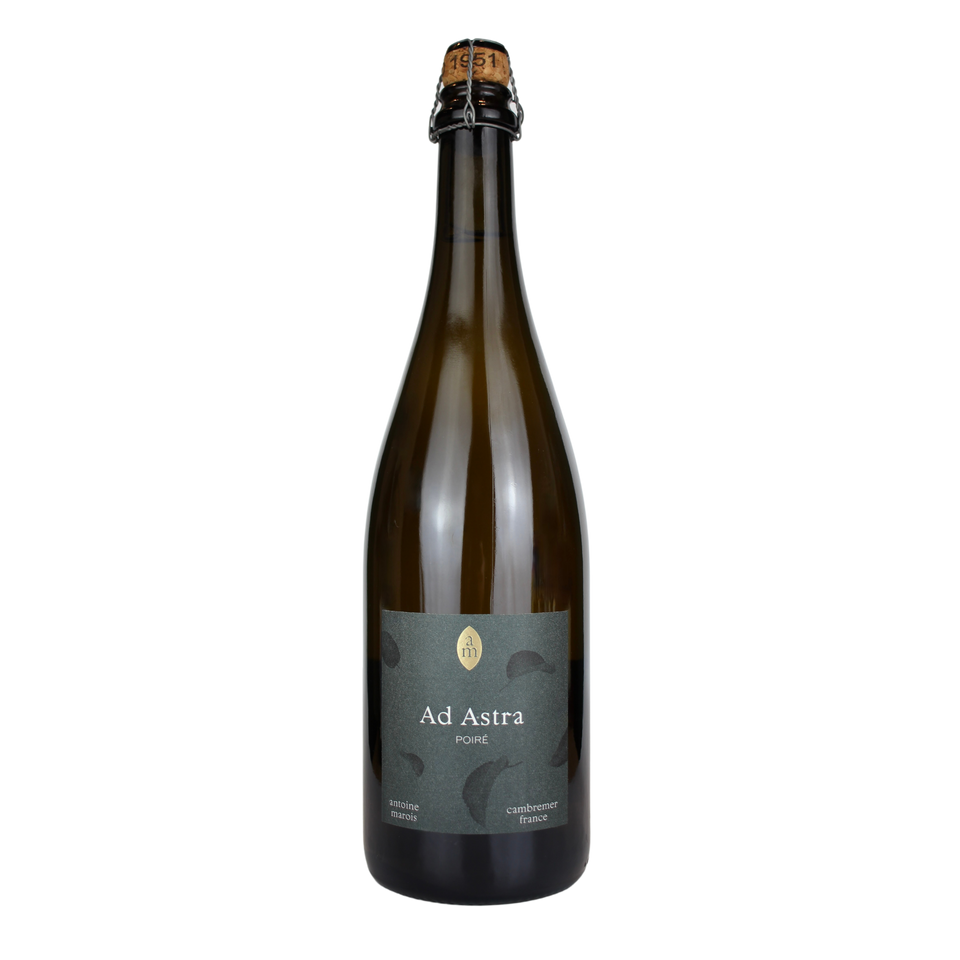 Antoine Marois Poiré Ad Astra (2018)
11485
REGION: Normandy, FR
SIZE: 750ml  / ABV: 3.5%
From a single variety of pear called 'Plant de Blanc'. These pears come from Antoine's friend's orchard in neighbouring commune Domfront, and are collected by hand. They are old trees which grow on clay and shale. The first fermentation occurs naturally in stainless steel tanks. The second fermentation then occurs in bottle to form a fine bead. These are not disgorged. "Fresh and floral with crisp pear and sea breeze. Clean and displays excellent aromatics. Fresh in the mouth, with fine, persistent bubbles. Very well made. Nice pear notes – skins, flesh. Dry with sweet fruit at the front, followed by nice bitterness and austere, dry finish. Balanced acidity and a hint of salt, make this a crisp, dry, fresh and ultimately satisfying beverage. Very classy, one of my favourites." - Ryan Larkin
High on the hill overlooking the village of Cambremer is Antoine's Grandparent's farm. In the heart of the Pays d'Auge, this 18ha estate of natural meadows includes 7.5ha of open air apple orchards. Antoine's grandparents grew apples and sold them in the old days, keeping a small percentage themselves to make cidre for personal consumption. These days, the orchards are managed by Antoine and his wife Marie, and they keep all apples to make a variety of products themselves.
After spending years working in the wine industry throughout France and overseas as an agronomist, Antoine decided to come home and take over the farm. From working in places such as Champagne, the Rhône Valley and Burgundy, he gained a thorough understanding of the many different soils and climates. His aim was to come home and make cidres that showcase the incredible terroirs that are unique to the Pays d'Auge in Normandy. And this is the key factor of why these cidres are so brilliant - the focus is on the individual soil composition of each plot, rather than the variety of apples. In fact, the same apple trees planted at the same time on different sites, produce different size trees and different size apples - and the apples taste different! A clear indication of the profound effect each soil type has.
Antoine and Marie farm 20 or so local varieties of apple, perfect for the production of premium cidre. They plan to plant pear trees soon too, as they also make incredible pear cidre - however, this organic fruit is purchased from a friend in the neighbouring commune of Domfront. There is no need to use herbicides or pesticides here, and as such all farming is organic. The family cows help to maintain the grass outside of the harvest period. At harvest time, the process is quite rigourous. The apples are collected by hand in small baskets and sorted in the orchards - only the best apples are kept. The apples then ripen further in large wooden crates. After this, they are sorted once again, washed and crushed. Leaving them in this crushed state exposed to oxygen for a few hours, helps to increase the aromatic richness. Finally, the apples are pressed, and the must begins to ferment spontaneously in stainless steel tanks. Fermentation is long and slow, controlled by temperature and also racking - this can last from 2-5 months. There are still some natural sugars remaining when the cidres are bottled, and so the second fermentation occurs in bottle to create the prise de mousse.