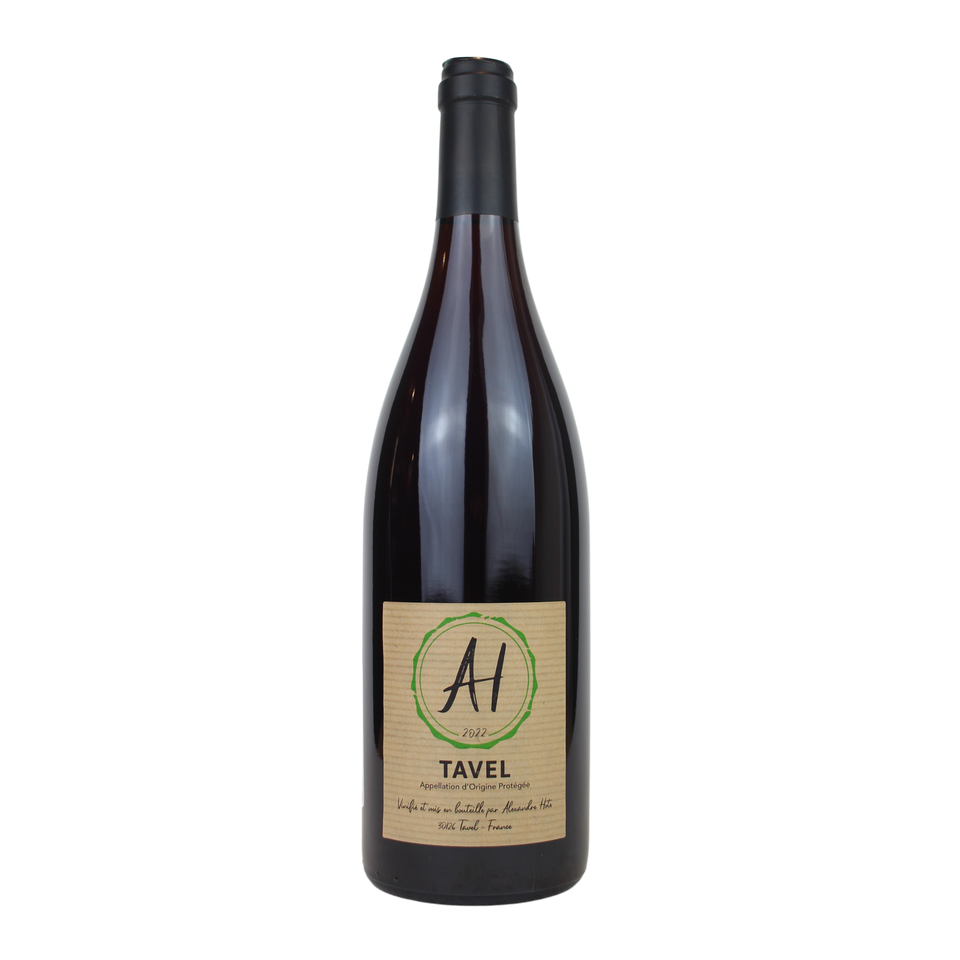 2022 Alexandre Hote Tavel
14870
WINEMAKER: Alexandre Hote
REGION: Rhône, FR
VARIETY: Grenache, Cinsault, Clairette
VITICULTURE: Organic/Biodynamic
From the clay limestone of the Plateau de Vallongue overlain with galéts rouges, the wine is a blend of Grenache (55%), Cinsault (35%) and Clairette (10%). Whole bunches undergo partial carbonic maceration and then are lightly macerated with skins before being pressed off to finish fermentation at 18˚C. The wine then goes through malolactic conversion and is rested in tank for 6-8 months. It is unfined and unfiltered and has 1g of SO2 added at bottling.
"Pale soft cherry red with white gold and ruby highlights. Lovely nose of strawberry confit with red cherry, raspberry leaf and chalky minerality. Rich full (for rosé) palate is immediately comforting. Sweet spices blend with macerating red fruits while light reduction and savoury cool limestone minerality add a savoury foil. Classic Tavel in the style of the most loved producer(s). A new name to watch in Tavel!" – Tim Stock
If you are unfamiliar with the area, Tavel is a southern Rhone village on the western side of the Rhône river, about 10km from Avignon. The appellation of Tavel is for rosé wine only: ripe, fruity, powerful, and based on Grenache. The wines are deep in colour and considered by many in the know as the very best terroir for rosé in France. Alexandre regards his first calling as that of a viticulteur, over that of a winemaker which isn't surprising considering his father, Gerard, was and still is, a viticulturalist, working 9 hectares across various terroirs in Tavel and sending his crop to the local co-operative. After 20 twenty years working in the vines alongside his dad, Alexandre was on the lookout for some vineyards of his own. In 2018, Domaine Méjean put their land up for sale, and Alexandre, at age 40, jumped on the opportunity.
Supported by his wife and children who actively participate in the life of the domaine, today Alexandre works 3.5 ha of Tavel and 1.5 ha of Lirac red (both planted in 1989) on clay limestone soils covered with the smooth galet stones of Vallongue. The vineyards are exposed to the powerful but cooling Mistral wind which slows ripening during the growing season and retains acidity in the grapes. 
Alexandre is meticulous in the vineyard, which are certified organic or in conversion, favouring manual work and natural treatments in his effort to produce the highest quality fruit, expressive of its terroir. In the winery, transfers, pressing and bottling are all carried out using machinery that does not require electricity and gravity is used for the movement of wine and must. Alexandre employs aspects of biodynamics in his winemaking such as bottling on a waning moon. With one of his sons now working at Domaine L'Anglore and the potential one day to take on his father's vineyards, the future here is very exciting.