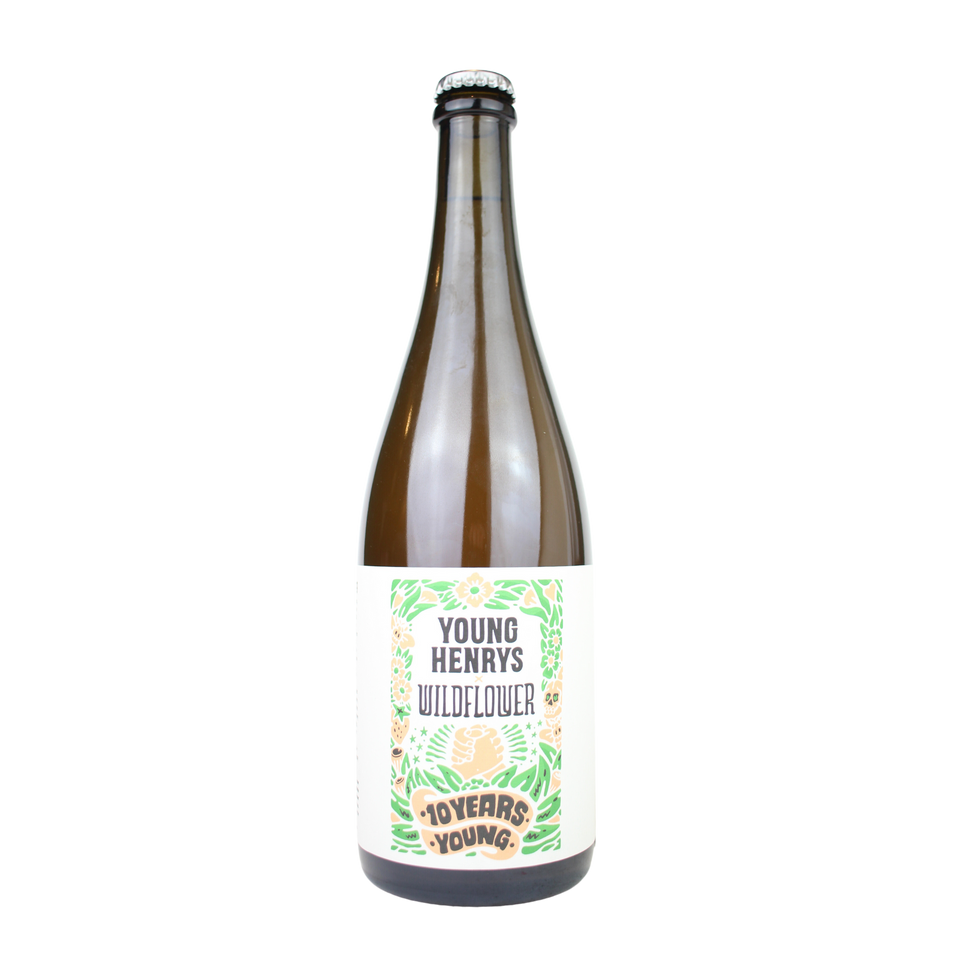 Wildflower x Young Henrys 10 Years Young
14125
REGION: Marrickville, NSW 
SIZE: 750ml / ABV: 5%
"In 2012 a daring Dan McCulloch, better known as Von Brews, inoculated a 500 litre barrel of YH's Natural Lager wort with a mixed culture they captured from the verandah of their Inner West flat. The barrel aged and aged and aged in Newtown until at last Richard Adamson remembered it and rang us to see what could be done with this piece of Australian craft beer history. When I went to taste it in 2021 I really had no hope that it was any good, but much to my surprise, it wasn't acetic at all, just incredibly oaky and on its own not particularly palatable.
So this old barrel was then blended with freshly fermented Gold in late early 2022 as a sign of our thanks to the entire team at YH for the hours of lab work they assisted us with, always free of charge, while we were having trouble with our house culture in mid-2021. From one of the youngest to one of the oldest on the block, thank you and happy (belated) birthday." - Topher
Tasting notes by Meesh: A bold and pretty nose full of overripe mango and apricot. On the palate, it is full and textural and finishes moreishly dry. A clear backbone of oak which is balanced with mild acidity and a pithy bitterness to keep you coming back for more.
It's difficult to overstate the impact of Wildflower since its inception only a few years ago in 2017. Hailing from Texas, Topher Boehm has an impressive resume - from Brasserie Thiriez to Jester King to his background in astrophysics - not to mention his unique house yeast. Cultivated from foraged wildflowers native to NSW, think wattle blossoms and banksia, blended with a Belgian saison strain, creating something truly individual which speaks of place. Topher even sprayed the entire brewery with inoculated wort when he moved in, just to make sure everything was literally covered in the house culture.