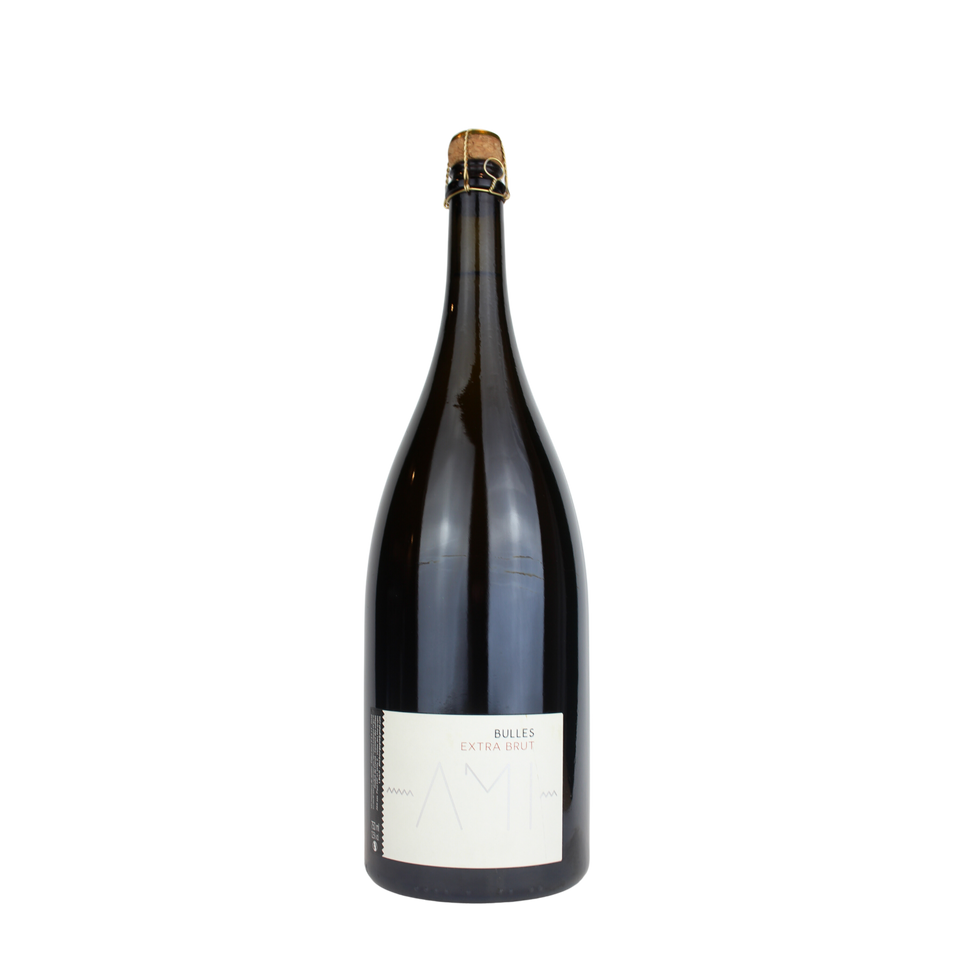 2019 AMI Bulles Extra Brut (1500ml)
13299
WINEMAKER: Paul Marchand-Perarnau & Willy Roulendes
REGION: Burgundy, FR
VARIETAL: Aligoté
VITICULTURE: Organic
100% Aligoté, made in the traditional method. Direct press, aged in old barrels, and then in bottle on lees for 18 months. Disgorged with 3gm/L dosage. Zero sulfites at any stage. Made like a Crémant de Bourgogne, but without the appellation due to being made with this variety. But by now I think we all know that Aligoté can often punch well above its weight!
Very fine, delicate bubbles. Smells of fresh limes, green apples and limestone. Hints of elderflower too. Super fine bubbles on impact, which gently caress the palate. Fresh, with flavours of sweet limes and tangy green apples. Sweet fruit but a long, dry finish. Perfectly balanced, this makes for very easy drinking. The ultimate item to pull out over the festive season - drinks like a beautiful Champagne but for a fraction of the price.
AMI is a project between two good friends, Paul Marchand-Perarnau and Willy Roulendes. Paul was previously a sommelier, is an excellent blind taster, has experience in farming and winemaking, and spent some time selling wine for Dynamic Vines in London. Willy on the other hand, has 20 years experience in winemaking. Together they have created a domaine/négoce operation in the Maranges valley, in the south of the Côte de Beaune. Willy had spent time working at Domaine de Montille in Puligny-Montrachet and Paul at La Maison Romane in Vosne-Romanée. The pair met and worked at Clos du Moulin aux Moines in Auxey Durresses (where Willy is still the head winemaker), before Paul moved to Provence to work at Domaine Hauvette. But after being apart, they came to the realisation that they wanted to work together again, and to make wines of their own accord. And so, AMI was born, with their first vintage realised in 2014.
The pair own roughly 2.5ha of vines, and also purchase around 2.5ha worth of organic grapes from friends in various villages throughout the Côte-d'Or, Beaujolais and Chablis. In the cellar, they vinify using indigenous yeasts, and without temperature control. No temperature control requires a high level of attention to detail. Without temperature control, there is no set formula, and so each year it is different, and decisions need to be made in line with the present moment.