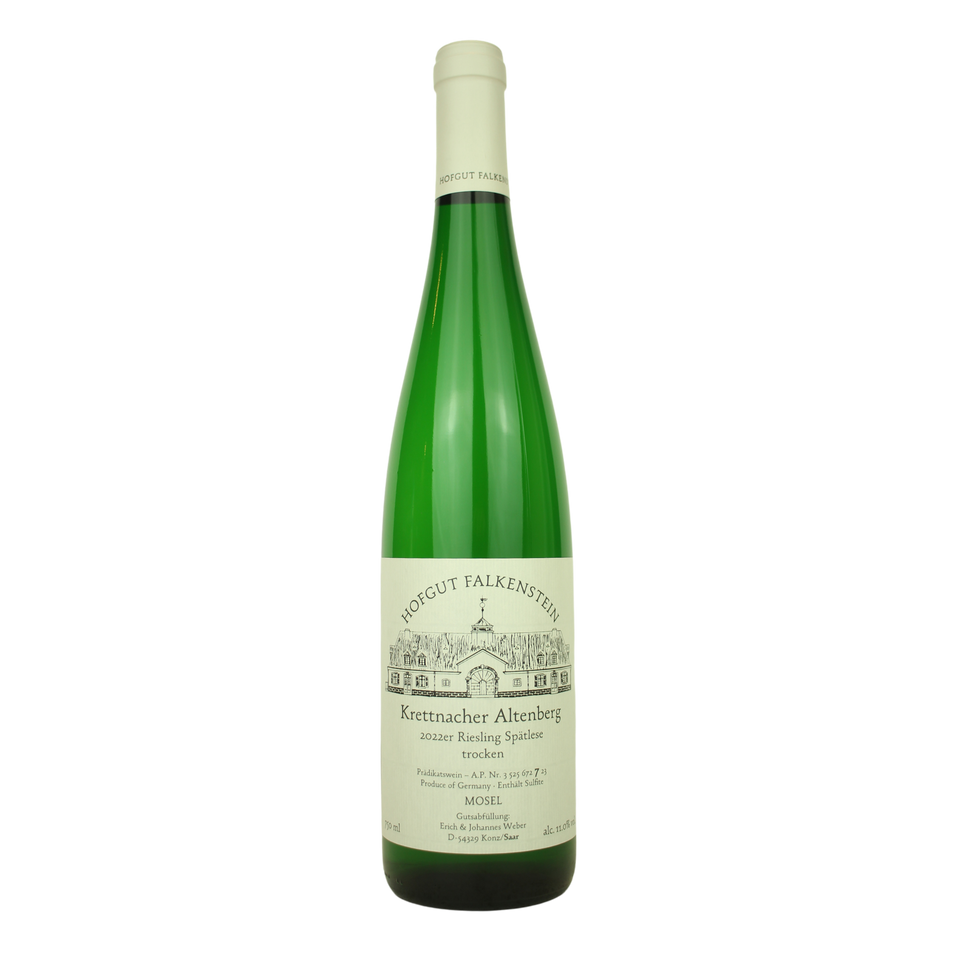 2022 Hofgut Falkenstein Krettnacher Altenberg Riesling Spätlese Trocken
14901
WINEMAKER: Johannes & Erich Weber
REGION: Saar, GER
VARIETY: Riesling
VITICULTURE: Organic
The Webers have been making wine at the estate since the mid-eighties, with winzer (winegrower) Erich Weber now joined by his son Johannes in the vineyards and cellar. No pesticides or herbicides touch the vineyards, and local grasses grow between the vines, helping with biodiversity, protection from erosion, and providing competition for water when necessary. In the warmer months, they resist the urge to de-leaf, which (aside from increasing risk of sunburned grapes) can cause thicker skins, and unwanted petrol flavors in the finished wine.
The Webers have been accruing top plots from around the villages of Niedermennig and Krettnach and currently farm around 9 hectares, with a total of one hectare of ungrafted vines. Soil type in the valley is predominately grey slate and quartz at different levels of decomposition. Winemaking here is incredibly straightforward: a vineyard block is hand-harvested, the whole bunches are pressed gently, and juice flows via gravity into an old, wooden fuder to settle, followed by a racking into its specific fuder for fermentation and aging. 
Wines are bottled with low sulfur additions (lots of sulfur isn't necessary when your wine's pH hovers around 2.8). Each parcel has its own fuder (often named after previous owners of the specific parcel), making for truly terroir-driven wines. Depending on yields, some parcels will fill multiple barrels, and these will end up as two separate bottlings, all designated by AP number.