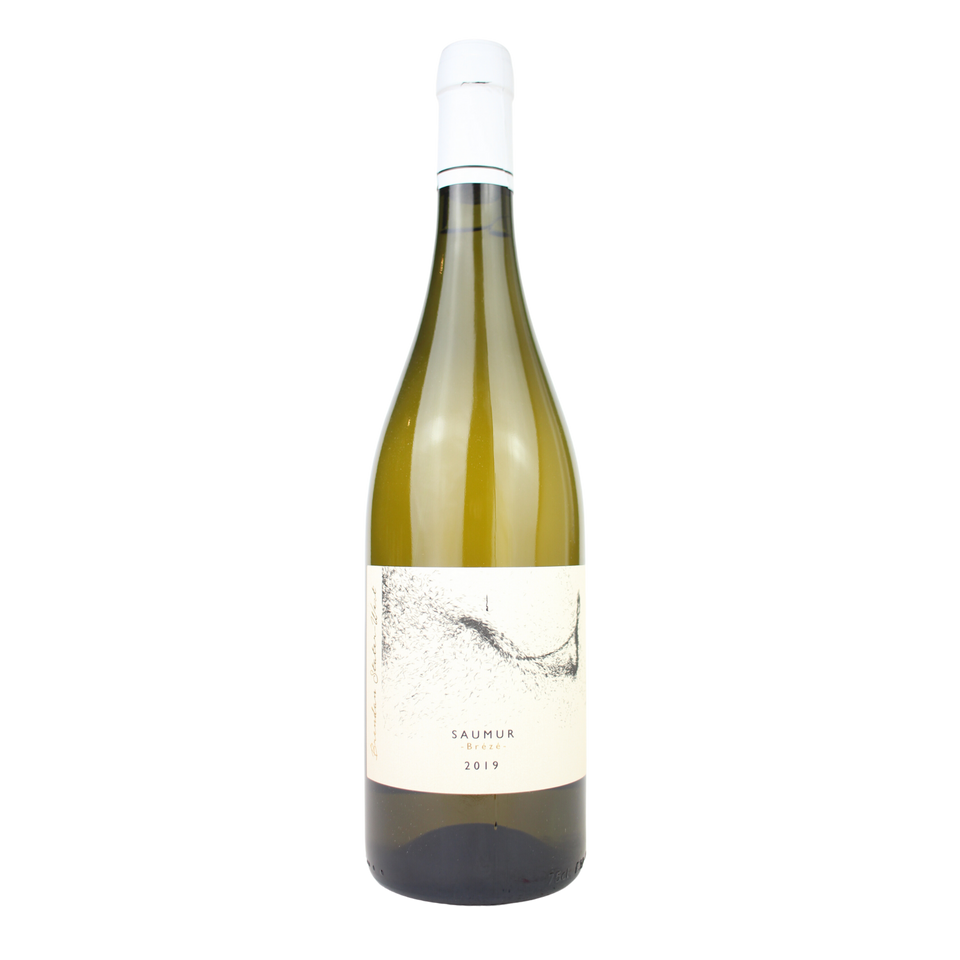 2019 Brendan Stater-West Saumur Blanc Brézé
14085
WINEMAKER: Brendan Stater-West
REGION: Loire Valley, FR
VARIETAL: Chenin Blanc
VITICULTURE: Organic
Stater-West has opened his Brézé account with 0.5 hectares in the lieu-dit of L'Ardillon; a single south/southwest-facing parcel of Chenin planted in the 1960s. The topsoil (about 80cm deep) is a mix of clay and loam above Turonian limestone. The soil's deeper structure brings more austerity, a more 'horizontal' profile than Les Chapaudaises. It's worth repeating that the terroir of Brézé is not typical Saumur. The vineyards are at a higher elevation than most of the surrounding areas and sit directly on a hill of tuffeau—a porous, chalky limestone intermixed with clay and sand. Something like 70% of the vineyard has less than one metre of topsoil so vines of any age must establish roots in the chalky bedrock. This terroir creates a far more citrus, floral and mineral expression of Chenin. Even in ripe and powerful vintages, the wines remain cool, pure and fresh.
It's hardly a large holding, yet Stater-West further reduces the yield by sorting out any less-than-perfect bunches. This inaugural Brézé bottling was crafted like Chapaudaises: aged on fine lees for 12 months in barrel followed by six months in stainless steel. Brendan uses less new wood than Guiberteau—the lion's share of the juice is raised in barrels after their second and third uses—giving the wine a certain youthful approachability compared to his mentor's wine. Future releases will see two winters in oak. Due to the very low pH (between 3.07 to 3.12), the malo never gets started, so Stater-West gives this wine a very low dose of sulphur (one gram per hectolitre) to prevent any 'accidents' happening in the bottle.
It's a deeply alluring and complex wine packed with the fine detail, extract and vinous intensity that are crucial features of Brézé's finest wines. It lures you in with bright and perfumed citrus, florals and savoury herbs before electrifying your taste buds with its potent fruit and generous texture draped in crystalline acidity and chalky structure. The persistent, saline-drenched finish is worth the price of admission alone. It's what you could call a serious bit of kit. Although it's more approachable than Guiberteau's smoky powerhouse, the longer you leave it, the more rewarding it will become. Serve it as you would a fine white Burgundy.
If you are new to the story, Brendan Stater-West fell in love with Loire Chenin Blanc while working at a wine store in Paris. He was particularly drawn to the purity and electricity of Chenin Blanc grown on limestone, especially the wines of Romain Guiberteau. As Brendan tells the story, the day after tasting Guiberteau's 2013 Brézé, he tracked down the grower's number and asked him for a job. Initially rebuffed, Stater-West was not going to take no for an answer and continued (in his words) to pester for a month or two until, at last, Romain yielded and accepted to take the passionate young American under his wing. Arriving in the summer of 2012, Stater-West quickly established himself as Romain Guiberteau's right hand. As we visited the cellars from 2013 onwards, it became increasingly apparent that the fast-learning apprentice was becoming an indispensable cog in the day-to-day running of the domaine. Indeed, during one of these visits, Romain Guiberteau told us that without Stater-West's assistance, the wines would not be at the level they are today. As it turned out, he would soon be able to return the favour.
Right from the beginning, Stater-West had been clear that his long-term goal was to make his own wines under his own label, and the opportunity arose sooner than expected. In early 2015 Guiberteau liberated his family's vines in the terroir of Les Chapaudaises from the local co-op and offered to lease Stater-West one hectare of Chenin Blanc (while keeping the Cabernet Franc vines for his own domaine). Domaine Brendan Stater-West got off to a flying start, releasing a 2015 that sold out in no time. But the young winemaker's progress was curtailed when Les Chapaudaises was severely frosted in 2016 and 2017, leaving next to no fruit to work with. As Brendan tells it, he had as good as given up on this dream before, by chance, Romain Guiberteau was offered the vineyards of an old winegrowing family without an heir to take over. Judging he already had enough on his plate, Romain recommended they talk instead to his ambitious chef de culture. 
The purchase (in 2018) gave Brendan Stater-West a fully-fledged Saumur domaine replete with an old wine cellar in nearby Chacé, within the appellation Saumur-Champigny. In total, he is now working with 3.5 hectares of vines, although on paper, the domaine covers just over five hectares (including a small parcel of recently planted Chenin in the Clos de Guichaux). In the vines, Stater-West follows the teachings of 'soil man', Yves Hérody, to improve the health and structure of his soils through the introduction of fresh organic fertilizer and cover crops which capture and return nitrogen to the soil (like fava bean, rye, clover and mustard). The plants are tilled into the ground during the winter along with the composted manure.