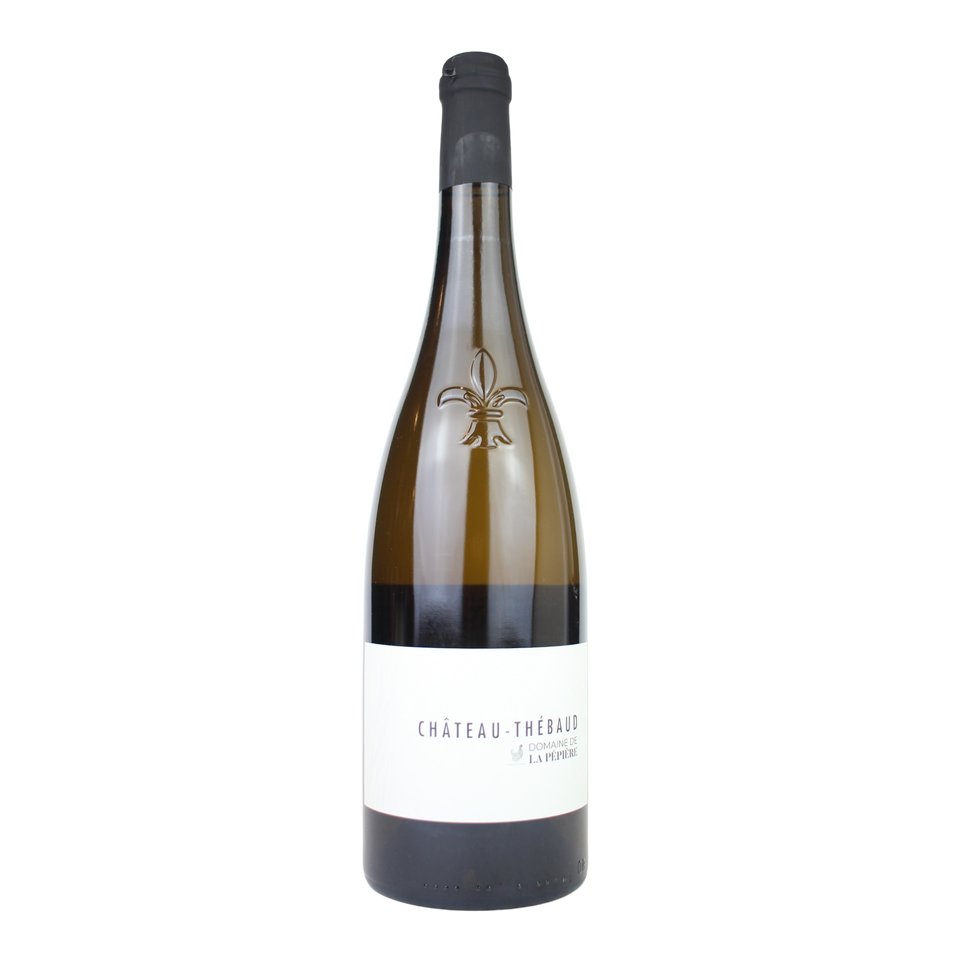 2019 Domaine de la Pépière Muscadet Sèvre et Maine Château Thébaud
14058
WINEMAKER: Rémi Branger & Gwénaëlle Croix
REGION: Loire Valley, FR
VARIETAL: Melon de Bourgogne
VITICULTURE: Organic
"Pépière has 14 hectares of vines in the cru of Château Thébaud, but only a 1.5-hectare parcel of vines 25 to 70 years old goes into this bottling (the rest goes into the entry-level "La Pépie"). The south-facing site features sandy clay soils based on decomposed granite de Thébaud--which has more clay and is thus cooler and slower-ripening versus granite de Clisson--and overlying mother rock of the same granite.
The farming is certified-organic and the all vineyard work including harvest is manual. As for the all Pepière wines, the clusters are direct-pressed and the juice settled naturally for 12 hours. It is then fermented in stainless steel tanks with natural yeasts; the wine is aged on its lees in large, underground, glass-lined cement tanks. The "Château Thébaud" bottling requires extending aging of up to 3.5 years (which by the way disqualifies it from the "sur lie" designation).
The palate is round and ripe and supple with white fruits and minerals. This is a superb Muscadet to drink over the next ten years, also decant for the best showing." - Andrew Guard
Domaine de la Pépière in Maisdon sur Sèvre in the Muscadet, is one of the greatest estates of the Loire Valley. The reputation comes from the vibrancy and density of the wines which reflect their terroir, mostly decomposed Granite, Gabbro and Gniess. There are 28 hectares of vines; about 8 hectares lie on the granite of Clisson in the more southerly part of the appellation, another 12 hectares further north, on the granite of Château Thébaud; both of which contain veins of metamorphic gneiss with amphibolite stones. Recently there is also wine from the commune of Gorges which will complement their range of Muscadet Cru Communal beautifully. Domaine de la Pépière is a standout in the region for several reasons. Access to old vines - the vines are old, some over 70 years and all are planted 'selection massale'. Selection massale is an ancient and laborious method of replanting by taking the cuttings from the old and best vines. It takes about four years to produce a quarter of the number of vines of the initial cuttings.