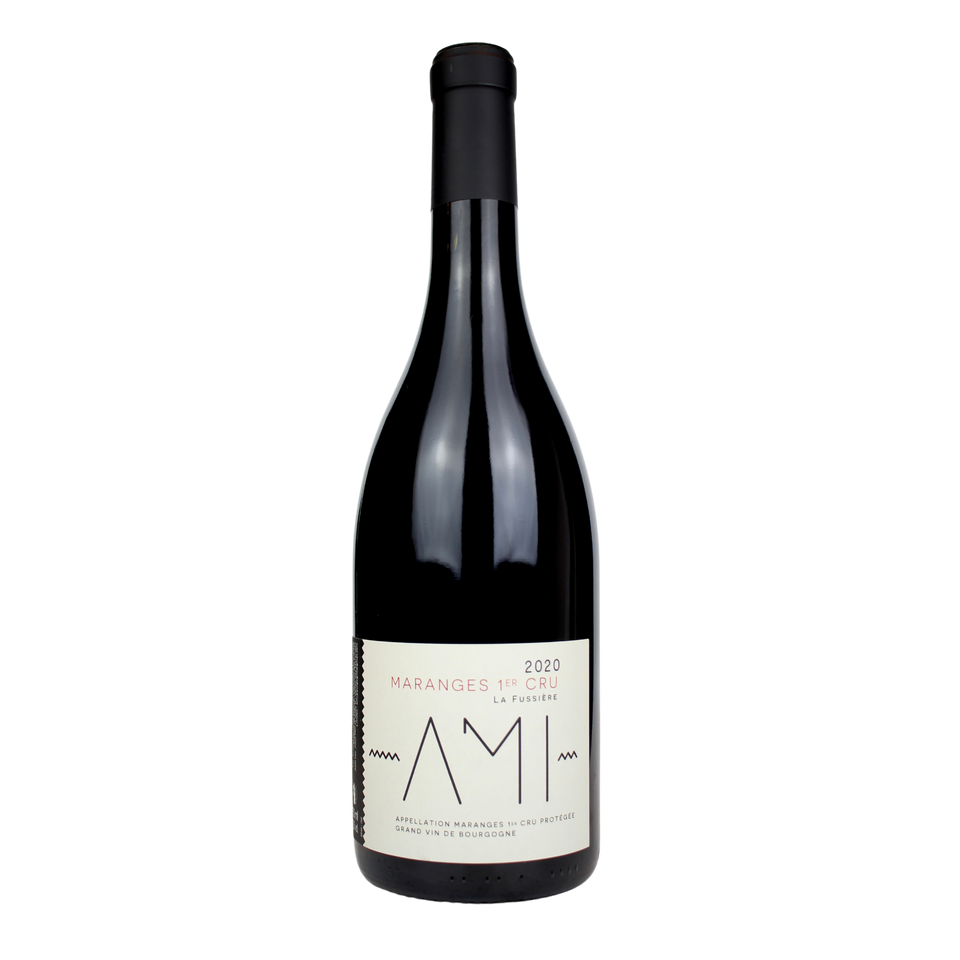 2020 AMI Maranges 1er Cru La Fussière
12039
WINEMAKER: Paul Marchand-Perarnau & Willy Roulendes
REGION: Burgundy, FR
VARIETAL: Pinot Noir
VITICULTURE: Organic
Willy purchased these vines in 2015 and began conversion at that point. They only have about 0.15ha of vines here with south/south-west exposure, mid way up hill. The soils are clay and limestone with blue marl underneath, and the vines are 50 years old. 90% whole bunch for 10 days, then aged for one year in old barrels. "Cherries and fresh soil. Iron. Deep and compact, serious nose – opposite of pretty and floral. Chocolate gateaux with macerated cherries. A few darker baking spices lingering in the background. Great structure, so much mid palate. Minerals and spice, dark berries. The wine evolves and morphs over time, keeping you coming back for more. Tannins are quite prominent, but soften with time. After time in the glass, darker berries on the nose, with blackberries and very expressive cherries, choc and spice. Warm soil. Texture is full and bright, but more smooth and old school than crunchy. This is more serious and darker in profile than the other reds, but offers a lot of earthy complexity. If you like powerful Burgundy, this is for you."
AMI is a project between two good friends, Paul Marchand-Perarnau and Willy Roulendes. Paul was previously a sommelier, is an excellent blind taster, has experience in farming and winemaking, and spent some time selling wine for Dynamic Vines in London. Willy on the other hand, has 20 years experience in winemaking. Together they have created a domaine/négoce operation in the Maranges valley, in the south of the Côte de Beaune. Willy had spent time working at Domaine de Montille in Puligny-Montrachet and Paul at La Maison Romane in Vosne-Romanée. The pair met and worked at Clos du Moulin aux Moines in Auxey Durresses (where Willy is still the head winemaker), before Paul moved to Provence to work at Domaine Hauvette. But after being apart, they came to the realisation that they wanted to work together again, and to make wines of their own accord. And so, AMI was born, with their first vintage realised in 2014.
The pair own roughly 2.5ha of vines, and also purchase around 2.5ha worth of organic grapes from friends in various villages throughout the Côte-d'Or, Beaujolais and Chablis. In the cellar, they vinify using indigenous yeasts, and without temperature control. No temperature control requires a high level of attention to detail. Without temperature control, there is no set formula, and so each year it is different, and decisions need to be made in line with the present moment.