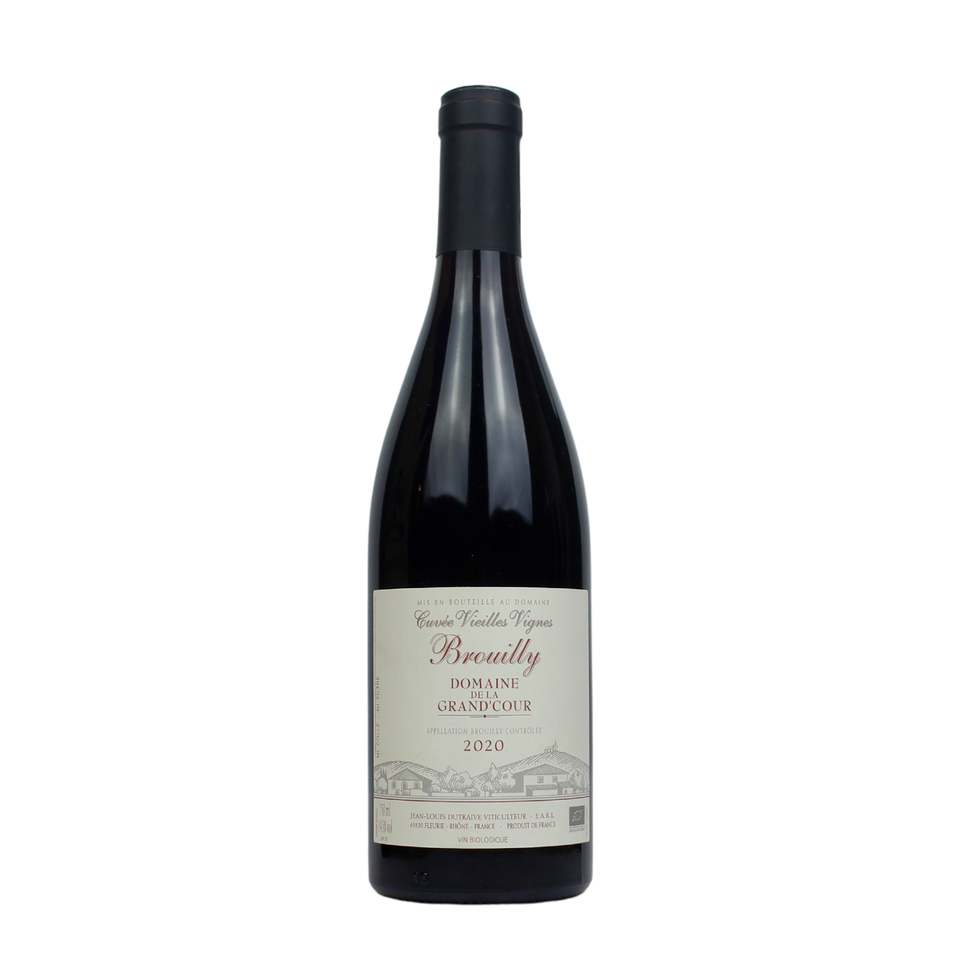 2020 Domaine de la Grand'Cour Brouilly Vielles-Vignes
12269
WINEMAKER: Jean-Louis Dutraive
REGION: Beaujolais, FR
VARIETAL: Gamay
VITICULTURE: Certified Organic
This Brouilly cuvée comes from a clay-limestone terroir with deep soil located east of the Brouilly appellation in the village of Charentay, at a place called "Vuril", Covering an area of ​​1.7 hectares, the plot is made up of old vines over 60 years old on average. The south-facing vines culminate at an altitude of 230 m. The yields obtained on the 2018 vintage are 50 hl/ha. The grapes were vinified in concrete and fiberglass vats then the wines were aged 50% in vats and 50% in oak barrels for 6 months.
Domaine de la Grand'Cour is one of the oldest domaines in Fleurie and carries a tradition for producing some of the most renowned wines of this cru. Back in 1969 Jean Dutraive purchased the commune-like buildings and surrounding vineyards of the domaine. He was then joined by his son Jean-Louis Dutraive, a fifth generation Beaujolais winemaker in 1977. Today the wines are quintessential Fleurie and among the finest of all Beaujolais. The domaine now comprises 9.1 hectares in Fleurie - the lieux-dits of Grand'Cour, the 8-hectare walled Clos surrounding the house and cellar, Chapelle des Bois and Champagne; plus 1.6 hectares in Brouilly. Jean-Louis began farming organically in 2002 when he moved to live at the house inside the Clos and was certified organic in 2009.
Only natural inputs are used. All work is carried out manually and harvesting is exclusively by hand to ensure on the best quality, whole bunches arrive in the winery. The soils across the vineyards are variations on the classic coarse granite sand and gravel, with some clay-limestone plots. The natural Carbonic fermentation is carried out in cement vats with sulphur eschewed until a micro-dose pre-bottling, and some bottlings are available sans soufre (although rarely exported). The Grand'Cour Cru Beaujolais range are a beautiful blend of classicist and natural philosophies; producing finely structured Gamay of great mineral purity and freshness, with a natural vitality only present in the best Beaujolais. These wines are recognised by peers and global Beaujolais followers as being among the top few producers in Beaujolais today.