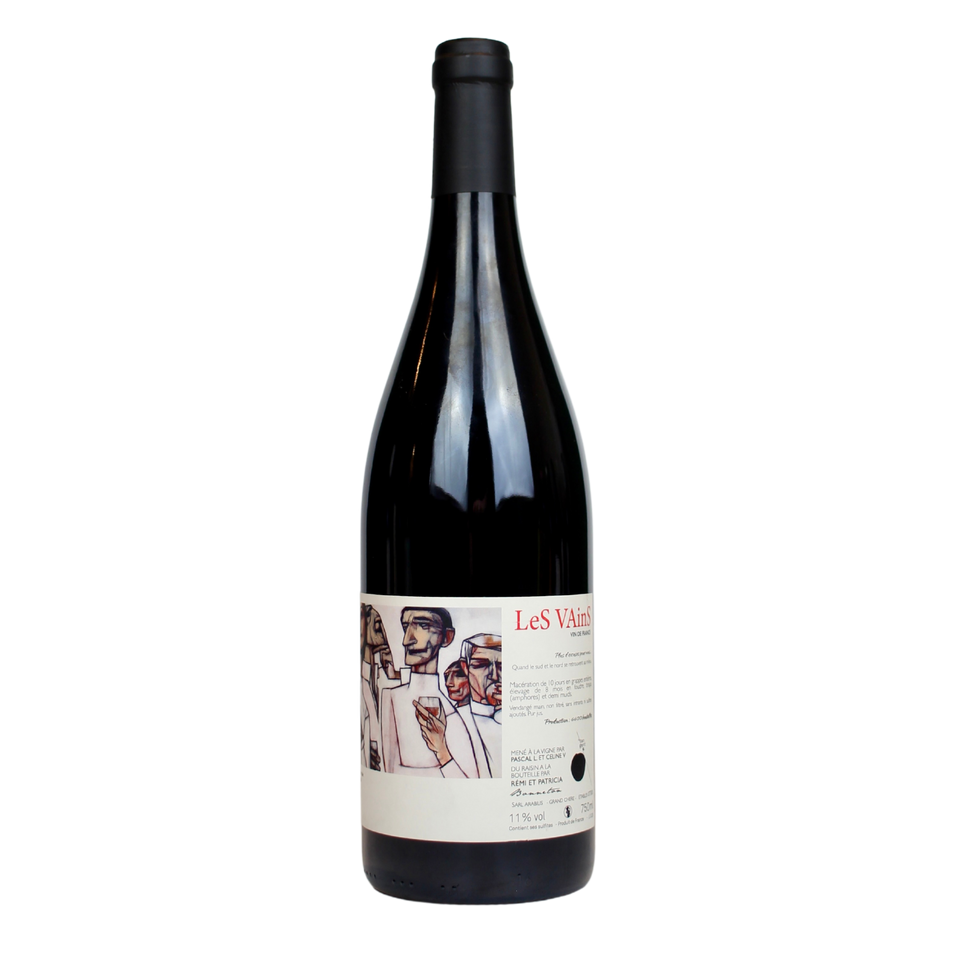 2020 La Tangente Les Vains
12573
WINEMAKER: Patricia & Rémi Bonneton
REGION: Ardèche, FR
VARIETAL: Cinsault, Gamay
VITICULTURE: Organic/Biodynamic
Blend of 70% Cinsault (grown on clay and limestone) from the Gard and Vaucluse, and 30% Gamay (grown on granite) from Beaujolais. 10 days whole bunch maceration. Aged for 8 months in a combination of Foudre, Demi Muids and Tinajas. Unfined, unfiltered, and zero added SO2.
Beautiful smell of wild berries and wild forest - a nice balance between fruit and savoury notes. The wine has an appealing lightish red appearance. Wild flower perfume, lots of blueberries and boysenberries too, with lighter red fruits in the background. On the palate it is light and fresh. The main thing you notice is the fleshy texture, lots of energy here. It has depth and power without being rich or heavy - it's quite fine in its delivery. Wild berries, fine tannins, and a nice little tart lift on the finish. Tension and mild grip is there too. The Cinsault brings the detail and the Gamay gives it a light floral lift. Easy drinking, with a great mix of pretty and sauvage characteristics. Serve chilled.
Rémi grew up in Hermitage, and was always surrounded by winemakers through family and friends. His direct family never had vines, and he was told it would be too difficult to be a winemaker, as land was too expensive. But it was his dream as a child to be a winemaker, so he had to find a way. He decided the next best thing was to offer a service to other winemakers using his horses. He had a good knowledge of animals and the land, and started up his own small business, which allowed him to work in the vineyards and slowly learn more about viticulture. Through his work he gradually came to know more people, and that enabled him to rent his first vineyard.
Patricia and Rémi met in 2012, and once Patricia has discovered natural wines, she became hooked. She had no experience in winemaking, her background was in marketing and recruitment. But she loved the idea of working the land by hand and horse, and so they began to work together, with the dream slowly coming to fruition. Rémi learned valuable skills most notably at Pierre Gonon and Alatache, and the pair have been guided from many good friends such as Babass, the Robinots, Philippe Jambon, Fabien Bergeron, Lilian Bauchet, Pascal Potaire and Paul and Chrystelle from Domaine des Miquettes.
Their vineyards are on the super steep hills of the Doux Valley in northern Ardèche, in the most dramatic and rugged of settings. Everything is done by hand and horse, and it is often a battle against the wild - things like hungry boar and deer, relentless hail, and even forest fires which came extremely close to their vineyards. Life here is not easy, but the hard work pays off and shows in the quality of their wines.