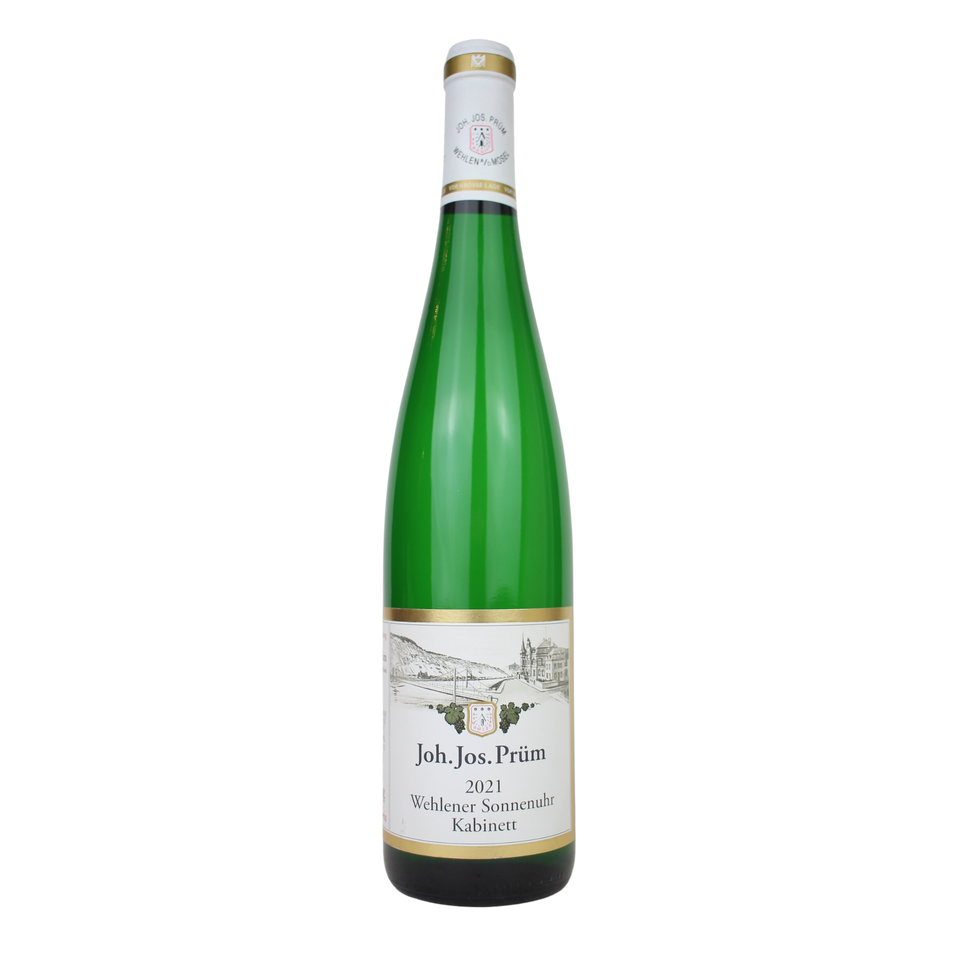 2021 Joh. Jos. Prüm Wehlener Sonnenuhr Riesling Kabinett
14323
WINEMAKER: Katharina Prüm
REGION: Mosel, GER
VARIETY: Riesling
VITICULTURE: Sustainable
"Smoke and reduction still cloud the nose of the 2021 Riesling Wehlener Sonnenuhr Kabinett, but golden, aromatic, textured fruit somehow combines pink grapefruit and russet pear peel, golden Mirabelle and lime. There's wonderful ripeness channelled with absolute precision on an elegant, smooth palate. Subtle fruit echoes long, real elegance." 94 points, Anne Krebiehl MW, Vinous
What is behind the consistency and greatness of J.J. Prüm? There are five main reasons:
1. Great sites: the four vineyards below have 2,000 years of history and are some of the most revered of the middle Mosel (Graacher Himmelreich and Wehlener Sonnenuhr in particular, are legendary). 
2. Old, ungrafted vines: 90% of the estate's vines are ungrafted with an average age exceeding 60 years. There are several key parcels aged between 70 and 100 years-plus. This has all kinds of implications for yield and quality. 
3. Precise picking dates: every parcel is picked only when perfectly ripe (subject to Prädikat) and often with multiple passes. 
4. Natural yeast, unhurried fermentations and patient aging on lees: the wines are never rushed and are only bottled when ready. This extra time on natural lees means the wines absorb everything the lees have to give (this sometimes means some gentle reduction and wines that need some time to unwind). 
5. The Prüms are a family of perfectionists: They are interested only in producing greatness and honouring the remarkable vineyards and ancient vines they are blessed to farm.