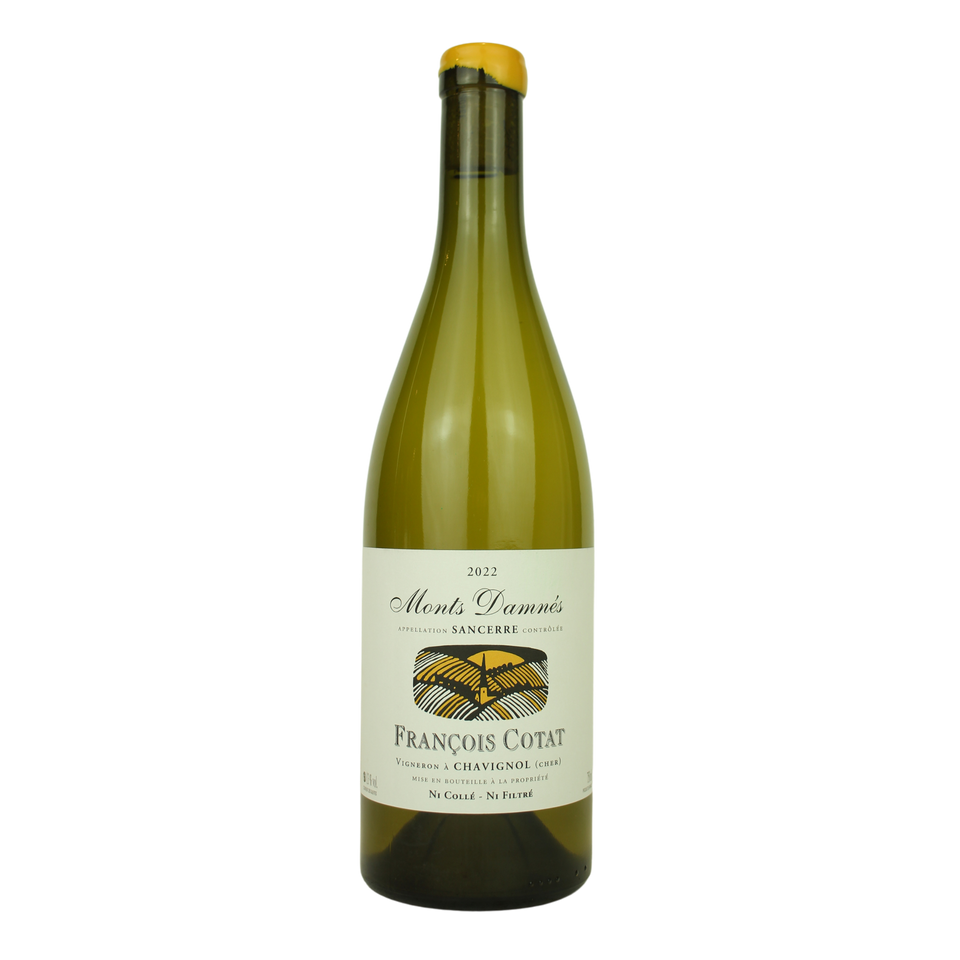 2022 François Cotat Sancerre Monts Damnés
14743
WINEMAKER: François Cotat
REGION: Sancerre, FR
VARIETY: Sauvignon Blanc
VITICULTURE: Organic
From a plot just over 1 hectare in size in Les Monts Damnés, the imposing sweep of vineyards that look down driectly upon Chavignol. This has a deeper tone and pitch than the 'Caillotes' and perhaps a touch more concentration. François's Monts Damnés is clearly the best example of this famous Cru. Reflecting the excellent vintage, this wine is cool and compact, a taut, tightly coiled core of briny minerality; such tension, and exquisite balance. Superb and needs time, plenty of time. A rare and iconic wine in the Loire and for good reason.
Since 1947, the Cotat family has been producing some of the most exceptional wines that the Loire has to offer. Today, François is at the helm of this wonderfully modest, tiny domaine (just 4 hectares) inheriting his father's parcels of old vines when he and his cousin Pascal separated the family vineyard in 1990. Their success and individuality can be attributed to François' intense passion for creating the finest wine possible and his exceptionally placed vineyards. Prudent viticulture combined with densely planted vines, ultra-low yields and relatively late harvesting produces fantastically flavoursome fruit.
There are three things that define François Cotat's wines. Firstly the superb Kimmeridgean terroir around the famed village of Chavignol and specifically it's vertiginously steep vineyard, Les Monts Damnés. Secondly, his vineyards are planted at a density of 8000 vines per hectare – higher than the more normal average of 6000 vines per hectare & with average yields of 45 hl/ha, far lower than Sancerre's 'rendement de base' of 65 hl/ha. Thirdly, that he is often the last to harvest, sometimes a week later than his peers and this, combined with his meagre yields, provides sublime and incomparable quality. 
In the cellar, François uses natural yeasts, no debourbage, no sulphur during fermentation (he uses sulphur at racking and bottling) and only one battonage after the fermentation has finished. Whilst not Biodynamic, he uses organic fertilisers and racks according to the phases of the moon. His incredible wines develop with age and, in the best vintages, can be cellared for more than 30 years.