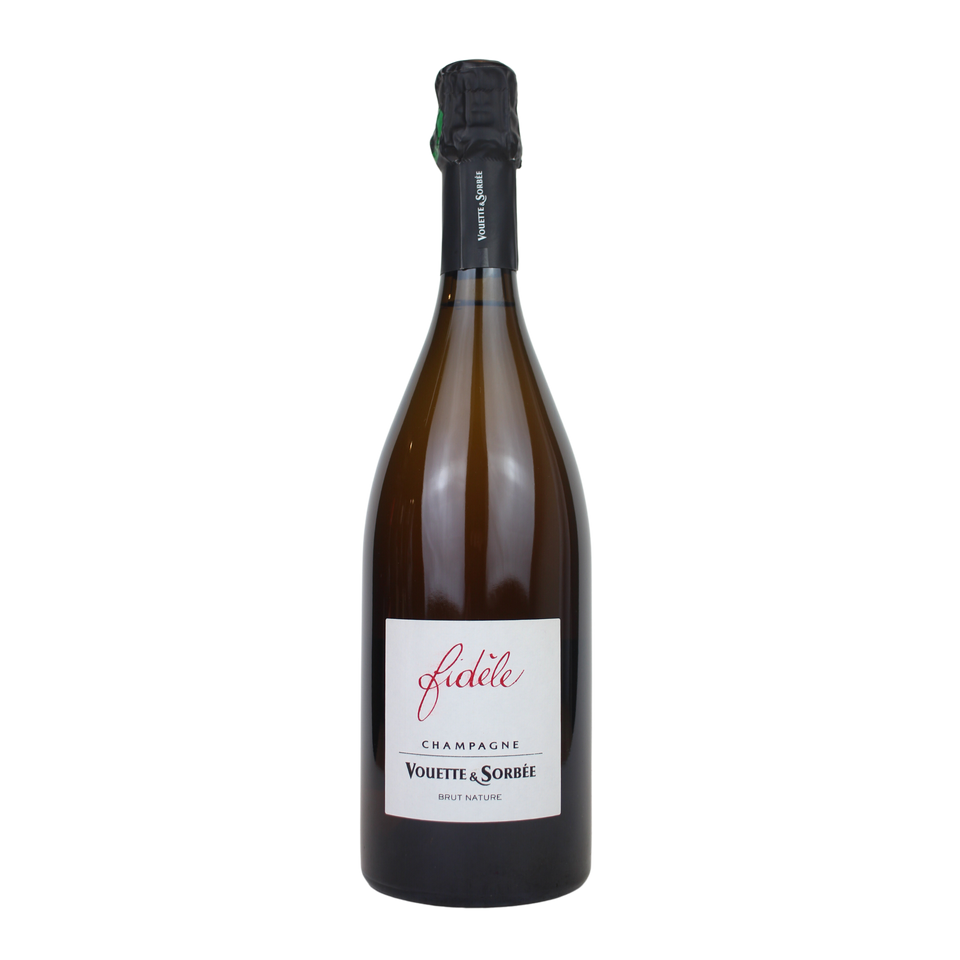 NV Vouette et Sorbée Fidèle Blanc de Noirs
14213
WINEMAKER: Bertrand Gautherot
REGION: Champagne, FR
VARIETAL: Pinot Noir
VITICULTURE: Certified Biodynamic
Fidèle is a blanc de noirs (100% Pinot Noir) grown on Kimmeridgian limestone soils. This is from 2019 but includes roughly 5% reserve wine from a perpetual blend started in 2001 and stored in two giant old foudres. The Fonnet vineyard, located in a small, enclosed valley, forms the heart of this cuvée. Sorbée provides much of the balance, topped off by Châtel—a very rocky and limestone-rich vineyard with 20-plus-year-old Pinot Noir vines. Overall, the vine age for this wine averages 30 years. Following pressing in a traditional, vertical Coquard press, Fidèle is vinified entirely without added yeast or chaptalisation, in used Burgundian barrels for 10 months (these barriques came from Domaine Arnaud Ente in Meursault). The wine then spent 15 to 20 months on lees in bottle after secondary fermentation and was disgorged with zero dosage. Gautherot describes this as "a dangerous wine"—the bottle disappears so quickly—and this description could not be more apt for the 2019. Lovers of Vouette et Sorbée should get excited!
Parting ways with his local co-op due to his decision to embrace organics in 1993 (certified biodynamic since 1998), Bertrand Gautherot's approach has always been at the cutting edge for his region. All his wines come from a single harvest (noted by the 'R' and number on the back label), except for the Fidèle cuvée, which sees a small addition of between five and 10% reserve wine from a perpetual blend started in 2001. This wine would be eligible to be called a vintage wine in any other region. These are all complex, textural, incredibly mineral wines made with low (or no) sulphur and without a drop of dosage. They are wines that result from low-yielding hillside vineyards, intense, ripe fruit, limestone-rich soils and a farmer whose heart lies in his vineyards.
A visit here is always a lot of fun and yet so thought-provoking. It's a domaine constantly experimenting and pushing boundaries—Bertrand has a high level of passion, single-mindedness and seemingly insatiable determinism. Despite several years with terribly low yields (the 2021 harvest was down 80%, primarily due to frost), Bertrand is enthusiastic about the future. Importantly, alongside the likes of Agrapart, Egly-Ouriet, Larmandier-Bernier and Selosse, this is another great grower where the next generation has returned. Bertrand now has his daughter Héloïse working with him, bringing fresh energy and new ideas. There is so much innovation happening here (even some that we cannot speak about) that it's hard to keep up. The winemaking here abhors any manipulation in the cellar. Gautherot uses the traditional Coquard press and the juice is transferred into oak or amphorae via gravity rather than being pumped. Primary fermentations are always carried out with natural yeasts, and riddling and disgorgement are done by hand. The wines are bottled without fining or filtration and without dosage.