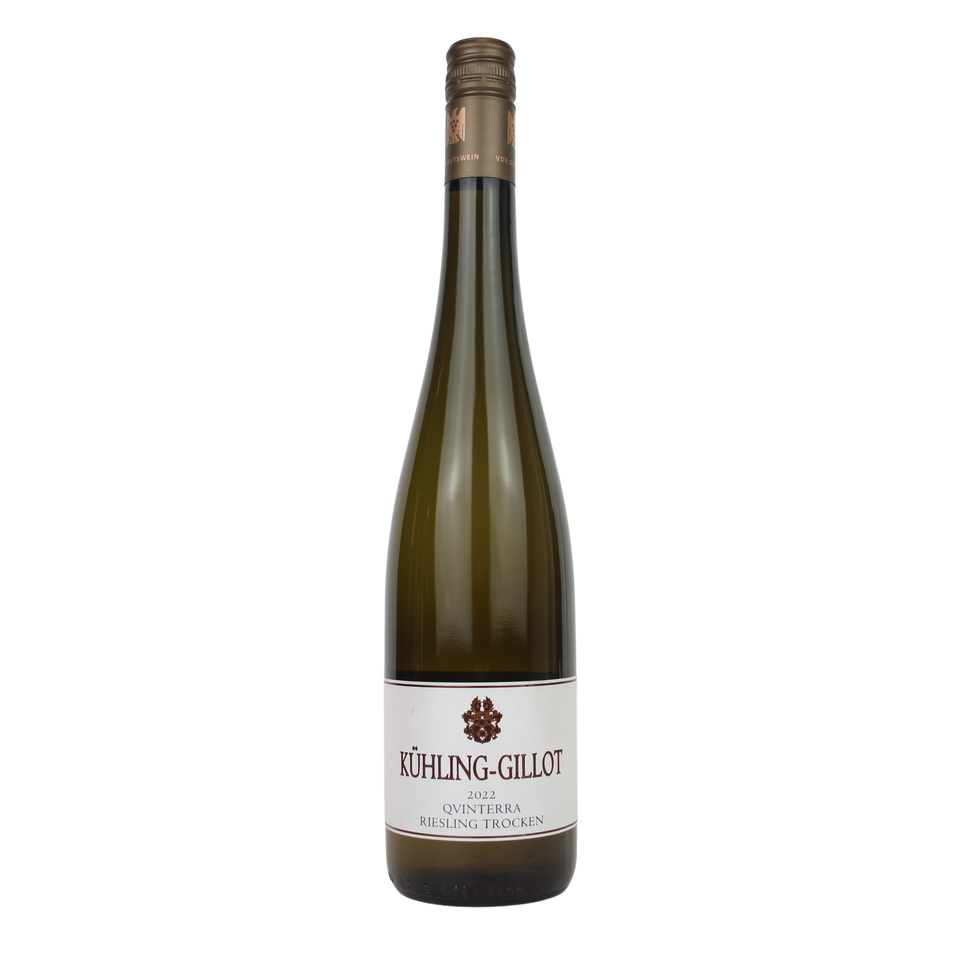 2022 Kühling-Gillot Qvinterra Riesling
4260061877294
WINEMAKER: Carolin Spanier-Gillot
REGION: Rheinhessen, GER
VARIETY: Riesling
VITICULTURE: Certified Organic/Biodynamic
The grapes for the Qvinterra Riesling hail from Oppenheim, Nierstein, Nackenheim, Bodenheim and Laubenheim, with pristine fruit reflective of the diverse vineyards along the Rhine. Matured in stainless steel and fermented wild yeast, these wines are the calling card for our estate, and the gateway into the quality pyramid of premium wines at Kühling-Gillot. This 2022 vintage Riesling comes predominantly from the finest Oppenheim sites atop limestone and loess, and is rounded out with a dash from the other Rhine terraces for added spice. Possibly the best Qvinterra to grace our shores.
In 1970, Gabi Kühling and Roland Gillot married, joining two great German wine families and tying two estates together. Their daughter, Carolin Spanier-Gillot is now responsible for the winemaking making some of the most revered and awarded wines in the region. In 2014 she became the first female to be awarded Germany's winemaker of the year.
Carolin's family has 11 hectares of vineyards overlooking the Rhine on Rheinhessen's eastern Rheinterrasse. The vineyards have incredible geological aspect, some of the most unique and beautiful growing sites in the world. Many of their vineyards are on the Roter Hang (the red cliffs), thick with iron oxide which imparts the wines with an almost tropical spice and intensity. 
The work in the vineyard shows complete dedication to biodynamics having been certified since 2006. Since the conversion, she has found her work in the cellar, mainly fermentation, to be much easier. At Kühling-Gillot, the usual late harvest, painstaking selection, and spontaneous fermentation in large oak casks enable the terroir to be perceptible in the wines. They normally come to market within two to three years to really allow the spirit of the soil to emerge through the wine.