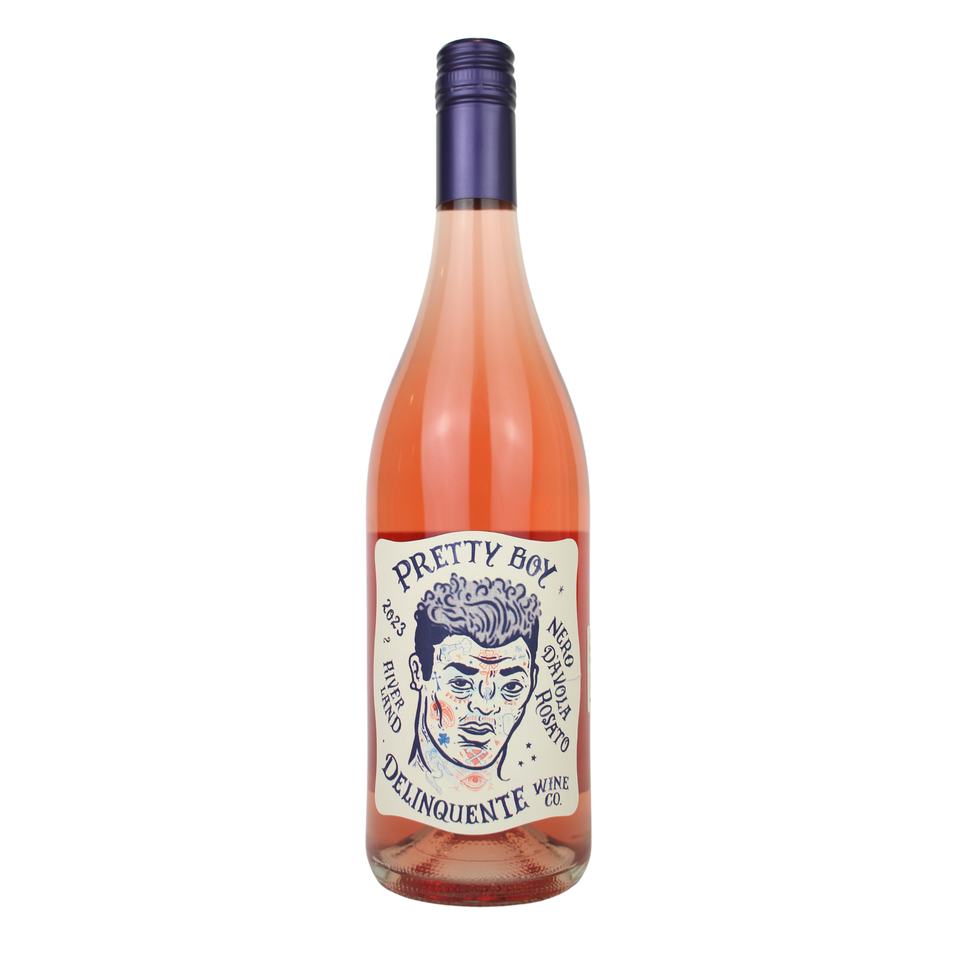 2023 Delinquente Pretty Boy Rosato
9339348005042
WINEMAKER: Con-Greg Grigoriou
REGION: Riverland, SA
VARIETY: Nero d'Avola
VITICULTURE: Organic/Biodynamic
Wild fermented Nero d'Avola Rose from the Bassham Family Organic and Biodynamic vineyard in Barmera. Wild fermented in stainless steel, Nero d'Avola is a native Sicilian variety that is perfect suited to the hot, dry climate of the Riverland. An incredibly versatile variety, while many know Nero d'Avola for the big bold reds of Sicily, with its sour cherry and naturally high acidity, we feel it is the perfect variety for Rose.
After crushing, the fruit was left to soak on skins for 6 hours, giving the wine it's the lovely blush pink colour. The nose charges at you with candied strawberry, rose petal, and that ubiquitous but undeniable strawberries and cream aroma that just keeps going and going. On the palate, a certain elegance – these fruit forward flavours persist, while the classic Nero d'Avola acidity comes in to keep things fresh and crunchy; evolving the flavours into a slightly underripe stonefruit spectrum – white peach or nectarine.
Con-Greg Grigoriou grew up on a vineyard in the Riverland, South Australia, where his father has managed wineries for over 35 years. A few years ago, while working for an advertising agency in Melbourne, he tasted his first truly interesting Riverland wine and something clicked - why weren't people producing high-quality wines in his home region?
Greg's idea for Delinquente Wine Co was to take advantage of the Riverland's small vineyards planted with Southern Italian varieties, which are suited to the region's dry Mediterranean climate. He sources grapes from trusted growers many of whom he has know his whole life, who work organically. In the cellar Greg takes this organic philosophy forward, all his wines are small-batch and single-vineyard, fermented in stainless steel with wild yeast and without acid adjustments. His aim is to make wine that is pure, drinkable and delicious - or as he would put it, "smashable".