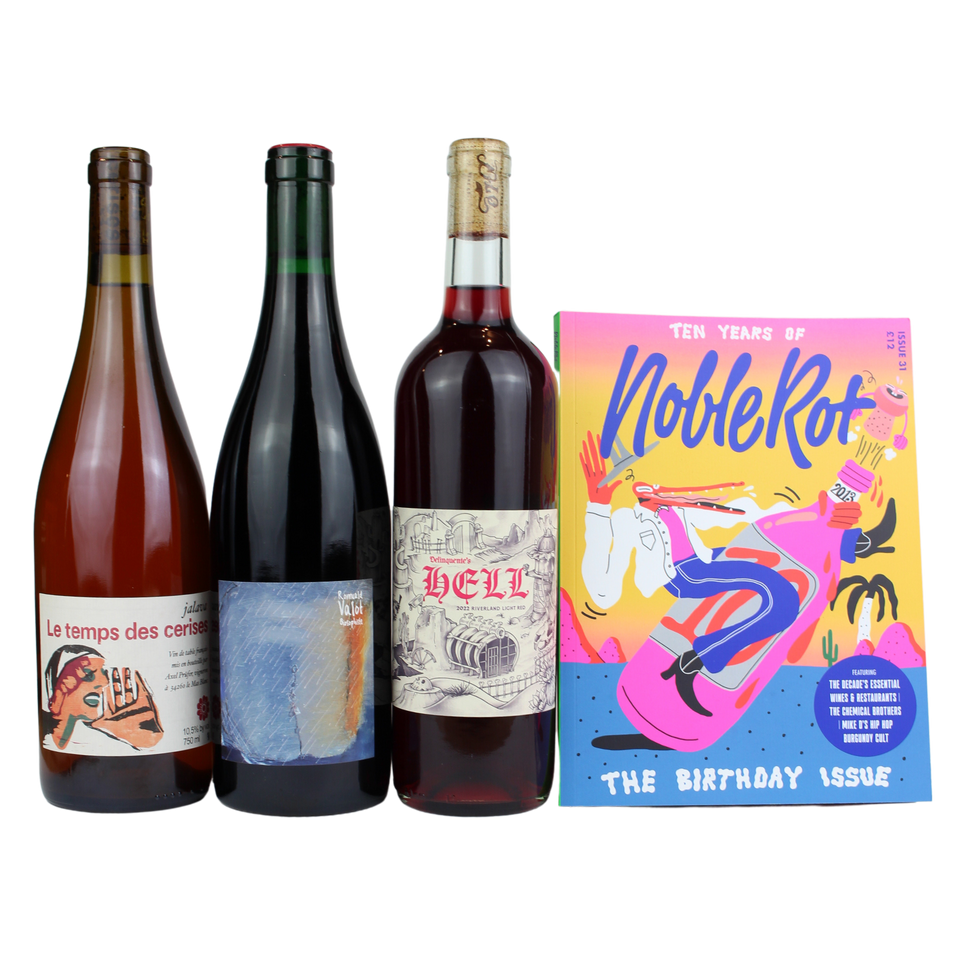 Pack of the Week: A Juicy Re(a)d
14013
This pack is available as a click and collect only.
Nothing better than a glass of red and a good read cuddled up under a blanket, which is why we've packaged up something so perfect for these late autumn evenings.

Noble Rot Mag's b'day issue gives intel on all the goss on what's been happenin' over the last 10 years and we're on booze duties; including three specially selected bottles of red. Think juicy, sappy, crunchy & slurp-able wines.

This week's pack includes:
1 x Noble Rot Mag 10th Anniversary Birthday Issue
1 x Les Temps de Cerises Jalava
1 x Romauld Valot Temps de Chiem
1 x Delinquente Hell Red


Noble Rot Issue 31: Ten Years of Rot—The Birthday Issue
So, Issue 31 is a celebratory issue and a rollicking one at that. A decade's worth of reflection, it's packed with the usual articulate contributions from a typically illustrious cast of crazy diamonds. Kicking the celebrations off is Marina Hyde, a columnist who epitomises the phrase, 'the pen is mightier than the sword'. Marina O'Loughlin then offers an engaging narrative on the most influential restaurants of the decade and Mike D charts falling in love with Burgundy during the early days of The Beastie Boys in 'The Hip Hop Burgundy Wine Cult'.


2021 Romuald Valot Temps de Chien
As natural as can be, Romauld practices all things minimal intervention and natural. The wines are as pure as can be, from his estate in the remote hills of Beaujolais, in Beujeau, way out in the west of the region. The vines are planted over granite and are a hundred years old. At five hundred metres above sea level, they are amongst the very highest in the region but most importantly, they are a world away from most in the area, allowing Romuald to be alone with nature. 
2021 Le Temps des Cerises Jalava
This wine was made from a number of the passes through the vineyard. This was followed by 10 days of carbonic maceration before pressing. This is a light, fresh wine made entirely from Cinsault that was matured in steel tanks. It is low in alcohol (10.5%) and can be served chilled like a rosé. It is perfect for drinking all year round.

2022 Delinquente Hell Light Red
Bright and jubey, sour red cherries, dried cranberries/rum & raisin chocolate, vanilla. A splash of skin contact Arinto brings salty tannin and acidity. Definitely chillable but not necessary. See how you feel.